May 4, 2018
The 10 Stages of Your Beauty Education, An Emotional Journey
Is beauty speaking to you?
Is it a new idea that has sprouted in your mind, or is it something deeper that has been rooted inside of you for years?
No matter if you are new to beauty or have been dreaming of a career in this exciting field for years, the first thing you are going to need is an education. That education is a journey unto itself! Cosmetology, barbering, makeup. They all have a story to tell, are you ready to experience it?
Here are just some of the emotions and you could experience as you take your journey through the world of beauty.
Stage One
Passion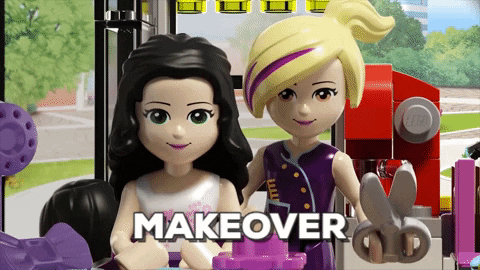 You have been dreaming of this for years, you know it's what you want. Beauty is your passion. Just thinking about the future you want to build gets you excited. You can't get enough of beauty blogs and tutorial videos, and your friends may even be getting tired of being your guinea pig. Beauty is your world.
It's time to enroll in beauty school! You are ready!
Stage Two
Nerves


You did it, you enrolled, and now the real adventure is about to begin.
Smothered by a mixture of excitement and nerves, the days leading up to and after your first day are going to be quite the rollercoaster. Just remember to breathe and take the time to get to know your new routine, as well as what is expected of you.
Plus, don't be afraid to make some new friends, you are going to be seeing a lot of them after all!
Stage Three
Connection


Everything is starting to feel familiar now, you are getting to know your classmates and getting a handle on everything that is expected of you.
The feeling is small right now, but you are really starting to feel like you are at home at your school. You wake up excited to go and know that you are on the right path.
Yes, there still might be hard days, but overall you are loving every minute!
Stage Four
Optimism


Just when you are starting to feel great, everything shifts and you get to start practicing your skill on clients! It's nerve-wracking, but you are optimistic about all this, all that is to come, and all that you are accomplishing!
It's hard work, but the challenge excites you! You are just starting to realize all the amazing things you can do!
Stage Five
Confidence


You have been practicing your skill on clients for a while now, and you are really starting to get into the groove of everything that lies ahead. You are still learning new skills each day and increasing the complexity of your abilities.
The more you do, the more you amaze yourself! This is just the beginning! You know you are going to great things and so do we!
Stage Six
Comfort


Everything is starting to feel normal. You wake up every day excited about what is coming. Now that you are mastering many of the skills you will need for your future career you are starting to see yourself there. Salon owner. Barbering master. The possibilities are almost endless.
A career in beauty has been your dream for years, you are so close now! It's exhilarating!
Stage Seven
Hope


Now that you know where you are going, and have that graduation date circled on your calendar, you can start planning. Begin by making connections at local salons, building your client book, or even developing a brand on social media. You are eager to set the foundation for your future.
There is unlimited potential in you, you just have one last step to get there.
Stage Eight
Anxiety


Graduation is here, and that means it's your turn to sit for the state boards. These tests are vital for licensing and although they may feel overwhelming, rest assured that you have learned everything you need to know. With a quality education behind you, you could easily find yourself on the other side of testing, license in hand.
Breathe deep and study hard, you are at the finish line.
Stage Nine
Exhilaration


That's it, you are all done. You have completed your education, you have passed your tests, and now you are ready to take that first step into your new career.
No matter where your education and passion takes you, relax knowing you have a solid foundation of skills, business knowledge, and creativity that it takes to succeed.
Stage Ten
Contemplation


You may think that licensing is the end of your journey, but you have years of possibility before you! With an empire to build and creativity to share, a few years from now you may well find yourself looking back on your journey, knowing that an education at American Beauty College was the best decision you ever made.
It may be a ride, but your beauty school journey is just the first step toward an exciting career and the life you dream of!
If you are ready to take that first step and begin your beauty school adventure, schedule a tour at our West Covina or Palmdale locations and witness how an education rooted in passion, that has been around for generations, could get you on the right track.
Schedule your tour today, it's the first step to a beautiful life.
Financial aid is available to those that qualify. For median loan debt, graduation rates and more, please visit our consumer information pages, here.
Looking for more great content? Check these out: